It's that time once again to make wild assumptions and miscalculated guesses, as Inside Survivor takes on the Survivor blogosphere in a competition called Jury Jeopardy, where we will attempt to predict this season's jury votes. Our opponents will be Andy Dehhart at Reality Blurred, Jeff Pitman and co at True Dork Times, and Sarah Freeman and the team from Rob Has A Website. You can read their predictions on their respective sites.
Six finalists are going into Wednesday's two-hour season finale, and there is no clear-cut front-runner, this makes it extra difficult to make these predictions! Last season I was way off in my predictions of how Jason, Scot, and Cydney would vote, let's see if I can do any better this time around – my Survivor blogging resume depends on it!
The Rules
For each juror and potential juror, I will rank who I think they'll vote for. Here's an example to make it clear:
Jessica – Ken > David > Adam > Hannah.
This would mean that I think Jessica votes for Ken no matter who he sits next to. If Ken isn't in the finals, then she'd vote David next. If neither Ken nor David is in the finals, she votes Adam next. If neither Ken, David nor Adam is in the finals, then she'd vote Hannah over Bret and Jay. In other words, I don't think Jessica votes for Bret or Jay under any circumstance.
Jury Votes

Michelle and Jay were tight from the very start of the season, and he never betrayed her. Regardless of who Jay is against, he would get Michelle's vote. If Jay isn't there, I think she leans towards Adam, especially if Jay is on the jury pushing for Adam after learning about his mother. I put Adam before Hannah because even though Michelle/Hannah had a slight bond at the start, they didn't seem close come the merge, and I'm not sure how much Michelle respects Hannah as a player. But if there's a millennial at the end I think Michelle votes for them. If it's all Gen X, then she leans David, meaning she doesn't vote Ken or Bret in any final three scenario.
Obviously, Taylor and Jay are bros for life, so Jay gets his vote no matter what. I think Taylor is going to vote emotionally rather than gameplay based, which means he will favor the alpha types over the "nerds," hence why I see him voting Ken over Adam/Hannah/David, and if Ken isn't there then Bret. I don't see Taylor voting for Adam or Hannah in any scenario.
Bret was Chris's closest ally for most of the game, and they appeared to have a solid friendship. If Bret gets into the F3, he has Chris's vote. If Bret isn't there, I see Chris respecting Jay's underdog spirit and competitiveness over David and Adam's more sneaky strategic game. If neither of those two makes it, then he plumps for David. Even though David burned Chris a couple of times, Chris did refer to him as funny and smart. If it's Adam/Hannah/Ken, I think he leans Adam especially if the jury at large is swinging that way.
I'd like to think after already rewarding Ken with the advantage that this time Jessica would reward David, seeing as he was the one that actually saved her (twice!), but I bet she still votes Ken over him. If Ken isn't there, then she rewards David. If neither men make it, then I think she votes Adam; his tears when she left suggest a tighter bond than was shown on TV. If it's Hannah/Bret/Jay, I think she swings to Hannah as she didn't seem to have a close bond with Bret or Jay.
Zeke is a tough one to predict given that he so quickly ditches allies. He spoke well of David's game while playing against him, and even compared his own game to David's, so I think he'd vote David before anyone else. If David isn't there, then probably Jay as they seemed to be friendly even if their relationship didn't get much focus. I have a feeling Zeke doesn't particularly care for his old "nerd" ally Adam, but the superfan in him would reward his game over his drinking buddy Bret who didn't have as flashy a game. But he could vote Bret if he's against Hannah and Ken; we never saw any connection between Zeke and Ken, and I don't think Zeke respects Hannah as a player.
Will described Jay as "the one person that has shown me respect throughout the game," and Will would very likely return that respect with his jury vote. If Jay doesn't make it, his next choice would probably be David; as a superfan, I think Will would appreciate David's game. Between Adam and Hannah, Will would probably see Adam as having more "big moves," and a more compelling story if Jay or Adam reveals the news about his mother. I don't believe he votes for Bret and especially not "arrogant" Ken in any scenario.
Sunday and Bret remained close throughout the game and appeared to be genuinely good friends. If Bret can get to final three, he gets Sunday's vote. Her next best relationship is with Jay; they bonded back on Ikabula, tried working together, Jay took her on reward – he'd get her vote. If neither of those two makes it, then her vote goes to David who she seemed to respect even if they didn't vote together (she chastised others when they took personal shots at him). Out of Adam/Hannah/Ken, I believe she'd lean towards Adam, especially if the news about Adam's mother comes out at FTC.
Who the Final 6 Would Vote For
If Adam ends up on the jury, I think he votes Jay over anyone else. They're both playing for their mothers and have formed a tight bond despite voting on opposite sides. If Jay isn't in the finals, Adam will likely vote David out of respect for his strategic game which he has talked about on several occasions. If the final three is Hannah/Bret/Ken, I believe Adam goes with his nerdy millennial ally over the two Gen Xers.
Bret was saved by Jay back on Ikabula, and they've been on the same side of the vote many times post-merge, if Jay can make it to the end, I think he gets Bret's vote for sure. It's tough to decide between the others; I don't think Bret really cares for Ken (all the eye-rolls), so I doubt he votes Ken in any scenario, and I'm not sure he respects Hannah's game. If Jay isn't there, David might be his next best choice, and if it's not David, then Adam – he at least understands both their games even if they worked against him.
David and Ken's friendship has been a central plot point for most of the season; it would be a surprise if David didn't give Ken his vote in the end. If Ken isn't there, then I think David goes for the nerdier, gamer types over Bret and Jay, so Adam first and if he's not there then Hannah.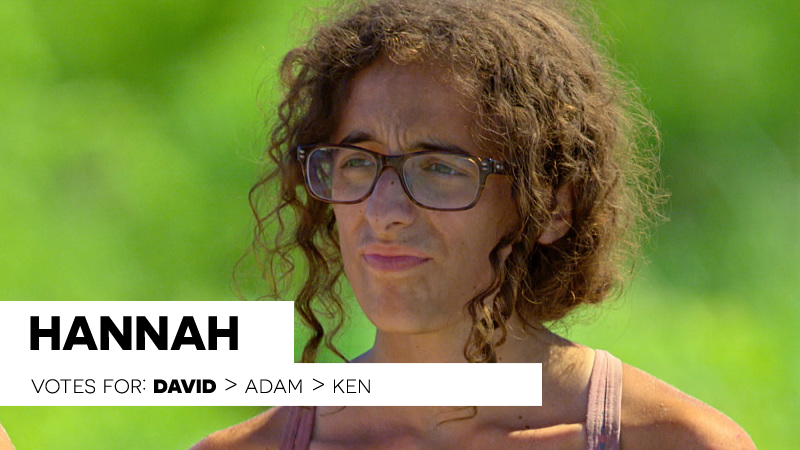 Hannah said that she "loves" David this past episode, so unless he horribly betrays her, I think he gets her vote. If David isn't in the final three, I think her next choice is Adam, someone she has worked with for the majority of the game. If neither of those two makes it, hmm, she could go either way on Jay or Ken, but I lean towards Ken because we've seen a better bond between them, plus Jay betrayed her way back and that might still be lingering. I don't think she votes Bret in any scenario.
If Jay finds himself on the jury, I think he'll go to bat for Adam, especially now knowing what and who Adam is playing for. But if Adam doesn't make it then it becomes a lot more difficult. We've never seen any bond between Jay and David, so I'm going to say he doesn't vote David in any scenario. I think his next choice after Adam is Bret, he saved Bret on Ikabula and they've tried working together plenty of times post-merge. After hearing Jay say that Ken "is full of s**t, Adam helped him win that," this past episode, I don't think Jay respects Ken all that much, and therefore would vote Hannah over him, seeing as he's been on every tribe with Hannah and would probably respect her reaching the end more than Ken.
Ken has committed himself to David throughout the season, and it would be a shock if Ken didn't vote for David at FTC. If David doesn't make it, I can see Ken voting for Adam as they've worked together since the swap and therefore Ken had more time to build a "genuine, authentic connection." He could vote Hannah if David and Adam don't make it, but I see him leaning more towards Jay, as he did say he sees Jay as a younger version of himself.
On paper, it looks like if Jay can make it to Final Tribal Council that he'll have the best shot of winning. The question is, can he get there? Don't forget to check out the predictions of Reality Blurred, True Dork Times, and Rob Has A Website, and of course leave us your own predictions in the comments.
---
Written by