This week we're going to be posting end-of-year lists to highlight the best, funniest, and most shocking moments of Survivor in 2019. The Inside Survivor team separately nominated four choices in each category (six in the Best Character categories). We then tallied those votes to determine the final four nominations for each of those categories.
To vote on the previous categories click here.
Here are our four nominations for most Shocking Moment of Survivor in 2019. Readers can vote below for their favorite.
Disclaimer: We decided not to include any moments revolving around Dan Spilo and his inappropriate touching—even if it would have made sense for a category like Most Shocking Moment. The End of Year Awards are meant to be a bit of fun and we didn't want to undervalue or undermine the impact of Dan's behavior by "awarding" the moment.
Chris returns from the EOE and wins the season (9 nominations)
Survivor: Edge of Extinction

A previously eliminated player returning to the game is not a brand new concept. We've seen multiple seasons featuring Redemption Island, not to mention the infamous Outcasts twist in the Pearl Islands. But never before had a player been voted out third (on Day 8!), spent the majority of the season on another island, only to return at the Final 6 (on Day 35!) and go on to win the whole thing. Chris Underwood's victory was a lot of things—frustrating, baffling, shark-jumping. But you can't deny it was a shocking end to the season.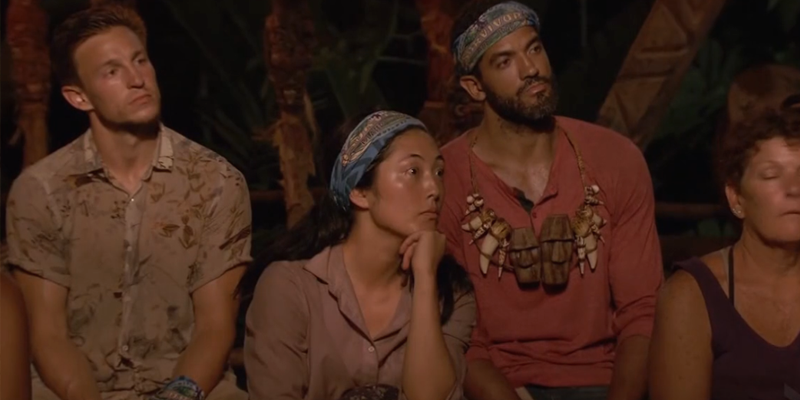 Kellee is blindsided with two idols in her pocket (9 nominations)
Survivor: Island of the Idols

Kellee Kim had to deal with a lot during Island of the Idols (for reasons mentioned in the disclaimer), but she also came into the merge with immense power. Having handed off her idol to Dean Kowalski at the previous Tribal Council, Kellee quickly found the re-hidden idol on Lairo beach, and just for extra measure, she found the merge idol too. So even though she was a huge target, and knew that her name was being tossed around, her position felt relatively safe. She had two idols! Surely she'd play one just as a precaution? Sadly, that wasn't the case, as Kellee became the first player since James Clement to be voted out while in possession of two idols. 
Aubry is blindsided with an idol in her pocket (5 nominations)
Survivor: Edge of Extinction

Next up is another elimination of a player with an idol in hand… and an extra vote on top! I've talked a lot about the cold and calculated blindside of Aubry Bracco in previous categories, so I'll try not to repeat myself too much. But I think the reason this particular vote was so shocking was that it was the first returnee elimination of the season, it was so early in the game, and it happened to a fan-favorite, former runner-up who was armed with advantages. Add to that that Aubry herself never saw it coming, and you had all the ingredients of a jaw-dropping Tribal Council blindside.
Jack and Jamal have an open conversation about race (4 nominations)
Survivor: Island of the Idols

This one was shocking in a good way. Survivor has tackled the topic of race before—not always in the most sensitive manner—but never have we seen a conversation so open and direct. The discussion came about after Jack Nichting made an inappropriate joke referring to Jamal Shipman's buff as a "durag." Instead of arguing or shying away from the subject, Jamal and Jack sat down and had an honest, intelligent, and insightful conversation about racial stereotypes, cultural insensitivity, and white privilege. Mainstream reality-tv rarely features such authentic discourse on these topics, and that's what made this touching scene such a pleasant surprise.
Honorable Mentions: Wentworth is blindsided with an idol in her pocket (Survivor: Edge of Extinction), Julie "jumps ship" in the middle of chaotic Tribal (Survivor: Edge of Extinction), Dean warns Tommy that he's a target during Tribal (Survivor: Island of the Idols).
The poll closes at 11 pm, January 1, 2020.
Check back tomorrow when we will reveal the nominations for Best International Character.
---
Written by