This week we're going to be posting end-of-year lists to highlight the best, funniest, and most shocking moments of Survivor in 2019. The Inside Survivor team separately nominated four choices in each category (six in the Best Character categories). We then tallied those votes to determine the final four nominations for each of those categories.
To vote on the previous categories click here.
Here are our four nominations for Funniest Moment of Survivor in 2019. Readers can vote below for their favorite.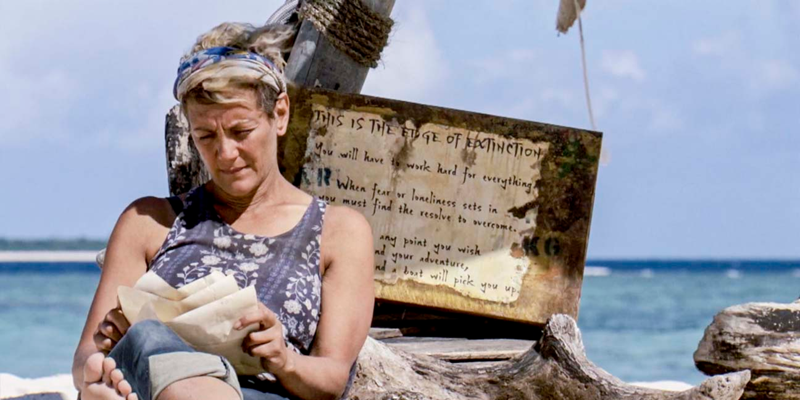 Reem's Edge of Extinction greetings (9 nominations)
Survivor: Edge of Extinction

It's safe to say that most Survivor viewers weren't fans of the Edge of Extinction twist, but just imagine how much worse it would have been without Reem Daly. As the first inhabitant of the desolate island, Reem essentially became the Edge's honorary mascot, welcoming each new visitor with a snarl and harsh putdown. I mean, who can forget such classics as "Read the sign, bro!," "Don't get excited," and "I swear to god, dude, I will dropkick you."
Noura fails to be caller (7 nominations)
Survivor: Island of the Idols

Noura Salman provided many moments of hilarity in an otherwise dark season, but perhaps none more so than her failed caller mission. It was a series of increasingly ridiculous comic events capped off with a punchline so perfect you'd think it was scripted. After visiting the Island of the Idols, where she chowed down on watermelon and regaled Rob & Sandra with stories of island life, Noura returned to camp to convince her tribemates to let her be the caller in the upcoming blindfold Immunity challenge. What followed was a convoluted, nonsensical lie and a laughably lousy practice session. And despite Noura's best efforts, after all that, her tribemates forced her to sit-out when it came time for the actual challenge. *cue the Curb Your Enthusiasm theme music*
Sandra's Survivor Bootcamp (4 nominations)
Survivor: Island of the Idols

The Island of the Idols was a flawed concept, especially when it came to the tests on offer. However, it did have its moments, and that was mostly when Rob & Sandra were having fun, and they never had more fun than in the third episode when Vince Moua was set a mission to sneak into the Vokai camp and steal fire. The Survivor veterans put poor Vince through a literal Bootcamp. This involved Sandra and Vince army-crawling through the sand and Sandra showing off her skills in espionage by hiding behind a single palm frond. Rob hilariously summed up the situation in confessional: "We're teaching Vince how to stay calm under pressure, but Sandra's taking it a couple steps too far… as usual."
Noura's long-winded fire-making decision (4 nominations)
Survivor: Island of the Idols

The Island of the Idols finale featured a whole host of funny Noura moments, including her "date" with Dean Kowalski, but it was her tortuously long speech to pick the fire-makers that made the list. It was a classic, mile-a-minute, off-topic Noura monologue, made all the funnier by the pained, nervous expressions on the faces of Dean, Lauren Beck, and Tommy Sheehan, who anxiously awaited their fates. Like an indecisive The Voice contestant picking a coach, Noura waffled through her thought process, stopping to talk about Dean's hotness and missed phone calls. Also, "You're on fire right now; literally, you're gonna be on fire tonight," is, ironically, the coldest way to tell someone they're making fire ever (and extremely funny). 
Honorable Mentions: Rob & Sandra's Tribal Council commentary (Survivor: Island of the Idols), Dean & Noura's date (Survivor: Island of the Idols), David & Wentworth's casual "Remember me?" chat amidst Tribal chaos (Survivor: Edge of Extinction), Boston Rob mocks Dean's flexing (Survivor: Island of the Idols), Wendy frees the chickens (Survivor: Edge of Extinction).
The poll closes at 11 pm on Wednesday, January 1, 2020.
Check back tomorrow when we will reveal the nominations for Shocking Moment.
---
Written by