Next Time is back! This is a blog all about decoding previews, commercials, and previous episodes in order to predict what's coming next on Survivor.
As always, this blog is 100% spoiler free speculation, and I look forward to reading your predictions as well. Comment below or tweet at me @JacobDerwin!
Part One: Previously on… Survivor
Last week was one of "almosts" for my predictions.
Didn't really know where to put it in the blog, but my bets are on Tai and Michaela to win the upcoming immunity challenges.
Grade: Not bad for a wild guess! B-.
Tai and Aubry are going to miss out on the merge feast, but will also be sent to Exile (Yacht) Island to enjoy a day of luxury, as well as an advantage each.
Grade: As I'm sure will be the case with this blog and most of them after it, press photos and articles were released after the blog went up, revealing information I had tried to determine on my own. Since I don't want to start writing this an hour before the episode starts, I'm just going to have to deal with it! That said, I got Tai right! Just completely over-thought the Exiling stuff. I'll take a D+ there.
Camp is going to get crazy with strategy, but in the end, some threats are just too scary to keep around. Ozzy will be eliminated and will become juror number one.
Grade: Y'know what? I know I said he'd be the first one out, but I deserve some credit here anyways. A-. It's my grading system, and I'll do what I want!
Sierra will use her legacy advantage at the first merged tribal council.
Grade: A little surprised this didn't happen. F.
In part two, Sierra will be voted out.
Grade: She's got more power than I thought she would. But people are catching on. For now, F.
Hali will win Survivor: Game Changers.
Grade: Oh well. I'll get to my new winner pick later in the blog. F!
Part Two: All shady
Andrea is not happy with Zeke. Not one bit. What were her words for him in the voting booth?
"Terrible game move, you suck at this game. I hope I see you never."
I don't blame her for being so pissed off. Zeke appears to have gone out of his way to target one of his closest allies in Andrea, for the sake of making a statement. The numbers were not in his control to do such a thing. Frankly, Zeke is lucky that Debbie and company were more interested in getting rid of Ozzy when they had the ability to.
In the post-episode teaser, we get a clip of Andrea sitting next to Cirie by the campfire, presumably after tribal council, talking to Zeke. "You're just all shady."
We don't hear Zeke's response, but we do see him trying to argue his case while an Andrea confessional plays over him. "Will I trust Zeke again? Of course not."
In the next part of the teaser, we see the "invincible" alliance of Brad, Debbie, Troyzan, Tai, Sierra and Sarah. With eleven people left in the game, a majority of six is a pretty great place to be in, but it's far from invincible. This is illustrated by the next scene, where we see Sarah telling Zeke, "we can make a move."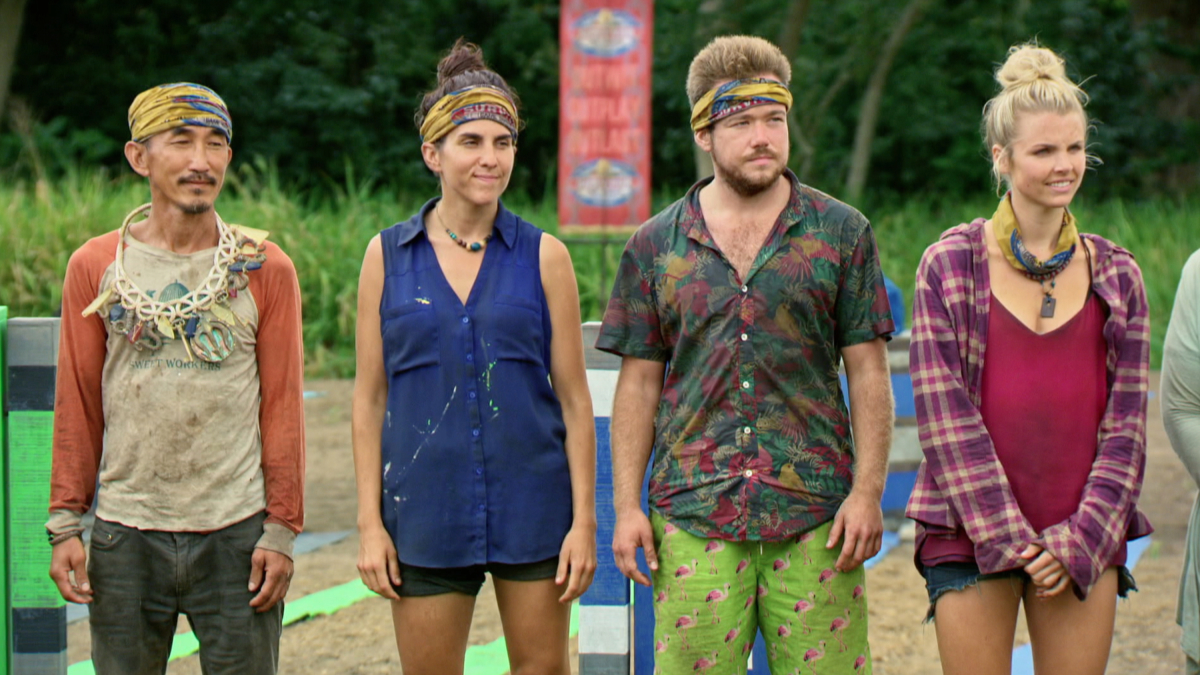 If Sarah decides to pull in the minority of the tribe – Zeke, Andrea, Cirie, Michaela and Aubry – in order to take out someone from the alliance she was previously included in, Andrea would have to trust Zeke. Hell, they would all have to trust that Zeke would do what was being asked of him. That said, Andrea and Sarah have been shown to trust each other in the past, so I would think that if there's any way to get Andrea to vote alongside Zeke, it would be with Sarah as a catalyst. And from there, perhaps they can gather up the rest of the minority.
Here's the problem: Zeke doesn't like being a number. Zeke also received four votes at the last tribal, all from players in the minority. And even though Zeke very excitedly tells the camera, "Hell yeah I wanna make a move!" at the end of the teaser, I wouldn't be the least bit surprised if he decided to screw over Sarah to take control of the vote and to get in with the majority alliance. After all, the label getting pinned on him at the beginning of the teaser, and likely the beginning of this week's episode, is "shady." All he would have to do is go to the previously mentioned majority alliance, sans Sarah, and tell them that Sarah discussed overthrowing the alliance with him. With that information, players like Debbie and Tai would turn on Sarah in a heartbeat, and I'm sure the rest of their allies would follow.
I would bet that this week's vote will come down to whether Zeke decides to tell the majority alliance of Sarah's plans, or whether Sarah manages to convince Zeke and the rest of the minority to vote together against someone in the majority.
Part Three: One of the most powerful moments on Survivor?
If you haven't already, go watch the commercial preview for this week's episode. Here's the link: https://www.youtube.com/watch?v=xTDFnlnvDCc
Watched it?
Okay.
What the hell is Probst talking about? Is it a Survivor Christmas miracle? "That is what happens when you believe in yourself! One of the most powerful moments on Survivor."
I mean, clearly they're at a challenge when Probst says this. And we even see Andrea and Debbie applauding. But like, applauding for what? How does a player bring everyone together by participating in a challenge?
We can tell that this challenge on the water is a team challenge, meaning it's for reward. And if Debbie and Andrea are clapping, that makes me think whatever happened, happened with the other team.
So now we're looking at Zeke, Cirie, Tai, Sarah and Troyzan. I swear, if it's just Tai helping the other team or something stupid like that, I'm going to gag. That said, out of those five, Tai is the guy I'd expect this kind of thing out of. Or maybe I'm overthinking it, and it's just a big come-from-behind victory.
I'm legitimately stumped though. I'm not used to shoehorned heartfelt moments in the middle of challenges. This is one of those "you tell me what's happening" plot points. I'll be reading your comments!
Part Four: Who's gonna win?
Malcolm got shafted by a twist, Hali maybe just isn't that great at Survivor… at this point, I have to believe this is Brad's game. He's voted in the majority each time he's been to tribal, other players are flocking to him, he's been presented in an overwhelmingly positive light thus far, and we know he can hustle in challenges when they aren't strictly endurance-based.
Even if he takes a hit this week and loses an ally to Sarah's scheme, we've repeatedly seen Aubry, Cirie and Brad open up to each other emotionally, as well as Aubry straight-up tell him that she respects him and wants to work with him. Honestly, his whole alliance could deteriorate, and I think Brad would still be able to find safety.
So, until he's inevitably voted out because all my winner picks are, Brad is my guy.
Part Five: Wrap-up!
How's it gonna go down? Maybe like this:
The immunity challenge appears to be one of those block-stacking-on-an-unstable-table challenges. I think Andrea will win that.

As for the reward, I don't know. Let's say that the Tai, Cirie, Aubry, Troyzan and Sarah team wins.

Sarah will talk to Zeke about making a move, but Zeke will take that opportunity to screw over Sarah and get in good with the majority alliance. Sarah will be voted out.

Brad will win Survivor: Game Changers.
---
Written by