Each week, Christine Pallon and Gia Worthy will round up the previous week of Survivor 44 as they list their top moments in various important categories. This includes the most essential information, the stand-out castaways, and the key moments from the week.
Here, Christine and Gia break down all the action from the latest episode.
Get exclusive content and features by supporting Inside Survivor on Patreon.
Top 3 Moments
Kane's Living the Dream
Gia: Up until this point, we haven't gotten a lot of content from Kane. The only thing we did know about him is that he isn't in the best spot on Ratu. In this episode, Kane finally got some time in the spotlight. He's Canadian (but apparently doesn't know the national anthem), he's a nerd, and he loves the tribe immunity sword as much as I do. I don't know how much longer we will have with Kane, but you can definitely tell that he is making the most of his time in Fiji.
Danny Plays Peter Pan
Christine: After finding Soka's idol last week, Danny executed his plan to get any idol suspicion off of himself. He decided to re-hide the cage key and leave the fake idol in the cage so it could be found by one of his tribemates, an endeavor that led to him somersaulting through the jungle and shoving the idol note in his mouth to hide the evidence. Danny's plan worked when Matt found the fake, and Danny confronted him about the idol in front of Josh before running to Heidi with the news of Matt's "idol." Mission accomplished!
Jaime Finds an Idol… Nevermind.
Gia: Jaime has been a bit of an anomaly on Ratu, especially since she didn't vote in their only tribal council so far. She also got some spotlight in this episode, but not necessarily for the best reason. She's coming into her own over on Ratu, and she even found an idol! Except she didn't actually find an idol, she found the fake one Matthew planted. For now, Matthew wants to work closely with Jaime, but trouble could be coming her way should their alliance no longer be beneficial for him.
Tribe Breakdown
Ratu
Gia: It's been smooth sailing for Ratu since their mess of a premiere. Everyone is having fun, and they haven't had to put their alliances to the test yet. That being said, this is the tribe that we know the least about on a strategic level. It feels like all 5 players have 5 different games going on in their heads. They need to find a majority to get on the same page, but the question is when will that happen?
Soka
Christine: We finally got a better idea of what's been going on with Soka beyond Frannie and Matt's showmance. This week's vote came down to Josh (who, as far as we can tell, doesn't seem to be super tight with anyone) and Claire (who hasn't competed in a challenge yet), with Heidi as the swing vote. After this week, it seems like Heidi and Danny are in the best positions on this tribe moving forward, with Danny getting his way over Frannie with the Claire vote and Heidi being the deciding factor in who would go home.
Tika
Gia: To the surprise of no one, Tika has been providing the viewers and themselves with endless laughs and entertainment. So while morale might be up, it's hard to keep the good times rolling when your next tribal council seems inevitable. You see, Tika isn't only the smallest tribe numbers-wise but also in physical size. They got lucky with this immunity challenge, but how long will this luck last for them?
Top 3 Contestants
Danny
Christine: Danny continues his reign as our resident chaos himbo this week. He's got an idol nobody knows about, threw idol suspicion onto someone else, and got his way when Claire was voted out unanimously. It doesn't seem like anyone has picked up on how hard he's playing, either. If he can keep up his goofy image for a while and keep his idol under wraps, he could be a real contender to make it far in this game.
Matthew
Christine: Meanwhile, Matthew one-upped Danny by making his own fake idol for his ally Jaime to find. Matthew is clearly here to play, take risks, and give it his all, as we saw in the premiere when his taste of adventure got the best of him and gave him a busted shoulder. I'm not sure how his decision to screw Jaime over with a fake idol will pan out for him, but it sure is fun. Matthew seems to be well-liked by his tribe and is contributing a lot to challenges, and his premiere SITD play allowed him to stay on Brandon's good side. I do wish he would slow down a bit on the challenges, though. I know he wants to compete, but his shoulder will only get worse if he keeps that up.
Frannie
Gia: Frannie is in a precarious position which is only going to get worse with the loss of Claire. Her bond with Matt has made her a likely target in the future, and Matt's fake idol will only get them so far. That being said, Frannie's perspective on the game is refreshing, especially with how she values alliance strength over tribe strength. Her attempt to keep Claire was unsuccessful, but I'm hoping her social game will be just what she needs to make it through this rough patch.
Fallen Comrades
Claire
Christine: Claire had so much potential to be a big character and entertaining narrator this season, so I was bummed to see her go so early. It seems that her lack of challenge participation was at least some factor in her elimination, but it's hard to tell to what extent. We knew so little about Josh before this episode when he suddenly became a viable target seemingly out of nowhere, so there are a lot of pieces of the Soka puzzle missing from the viewer's perspective. Despite losing Claire so early, I appreciated that we at least got to have fun with her on the sit-out bench during the short time she was with us.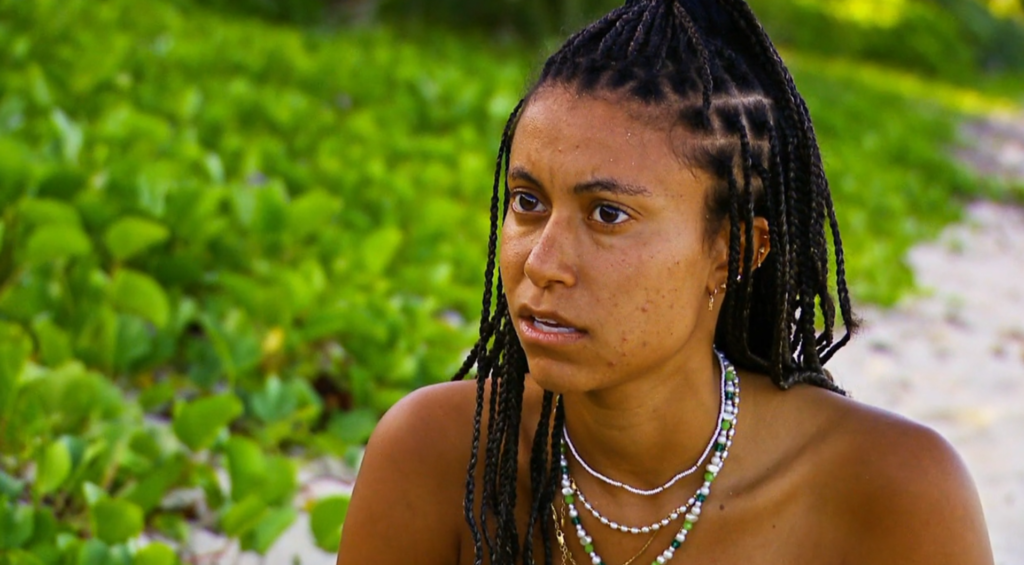 Gia: I have been such a big fan of Claire since the pre-season, and her Twitter presence has made her even more of a star in my eyes. To see her go so early is heartbreaking, especially considering how the boot list so far has been all superfans like herself. On the positive side, her exit has led to a resurgence in the discussion of how biases within the game's structure negatively impact women, and I'm hopeful we can see some positive changes as a result. Either way, we're lucky to have her on our list of Survivor alums.
---
Written by
---