Survivor South Africa returned to screens in 2018 after a four-year hiatus and immediately proved itself to be one of the most exciting editions in the international Survivor franchise. The show will be hoping to emulate that success when the seventh season premieres on M-Net on May 16.
The upcoming season, titled Island of Secrets, will see 21 castaways battling it out on the islands of Samoa for 39 days for a shot at the grand prize of R1Million and the title of "Ultimate Survivor." While M-Net has remained tight-lipped about the mysterious Island of Secrets twist, the cast has been described as "a diverse group of strong-willed individuals who believe they know the ins and outs of the greatest game on earth."
"We handpicked fascinating, multi-faceted personalities from a variety of professions and age groups who are not all they seem to be on the surface. It's going to be a social experiment of note to observe how they manoeuvre through the conflicts that are bound to arise," said M-Net head of publicity Lani Lombard.
Learn a little more about the 21 new castaways below:
TA'ALO TRIBE
Corbus Hugo (28)
Cobus is a lively, happy-go-lucky and proudly gay young man who lives on the light side of life, but admits that there's sometimes a bit of sarcasm behind his million-dollar smile. It always comes from a good place, though.  This social butterfly channels his boundless energy into running marathons or working really hard to get what he wants. His biggest fear going onto Survivor SA is that he will be part of a boring tribe, but as his circle of friends know, Cobus will quickly be able to change the mood for the better in any group. Having a down day will indeed be a new experience for this loving and caring architect. And who would not want someone who can construct a proper shelter for his or her tribe?
Dante Rudolph de Villiers (31)
With his long flowing hair, muscled body and love for the ocean, Danté is Survivor SA's dreamy Aquaman! His passion for the outdoors has taken this soft-spoken athletic loner to many places across the world. After living in Thailand and spending the last seven years in the South of Israel next to the Red Sea, Danté has returned to South Africa to run a coffee shop – in a small coastal town of course! Danté certainly doesn't conform to the norm. "I do my own thing, on my own terms," he says of himself. "There are too many followers in this world." Case in point: Even though he sees himself as a "real surfer", decent hygiene is very high on his priority list.
Felix Godlo (29)
Sales consultant Felix Godlo, is another Survivor contestant known for going against the flow. Felix comes from a traditional Xhosa family, but was offered a sports scholarship at an Afrikaans high school. Today, he is married to his Afrikaans high school sweetheart and in October 2018 they welcomed a baby boy. Felix is not only a good husband and father, he is also a natural leader and talented sportsman who loves to make his dad, a military man, proud. While studying at the University of Technology in Pretoria, he played rugby for The Vikings and later he represented Old Selbournians in East London. Solid, in-control Felix sees Survivor as the ultimate social experiment and is over the moon to be part of it.
Jacques Burger (27)
Jacques is a Survivor super-fan. He has watched every single season – sometimes more than once – and even dedicated a podcast to Survivor SA: Philippines in 2018. This real brainiac, who is for obvious reasons always stereotyped as the nerd in a group, is adamant that he wants to be known as one of the greatest players in the history of the TV franchise. "I may look like I am on a hunger strike," the scrawny married industrial engineer says, "but I can hold my own in challenges." His nickname "Die Lem" was apparently earned during his early rugby-playing days. On paper, Jacques is a meticulous strategist whose social game is on point. But will he live up to his own expectations when Survivor doesn't play out on paper?
Meryl Szolkeiwicz (31)
A creative soul with a degree in musical theatre, this pilates instructor with big hair and even bigger ambition always wants to perform at her best and won't let anything get her down. After starting a career as a musician, Meryl married quite young and had three beautiful boys within four years. For this yummy mommy, Survivor SA is an opportunity to rediscover her adventurous side. Raising three kids made her fierce and strong, compassionate and loyal, but in Survivor you may just see a little more of her flirtatious side. It is a game, after all!
Tania Copeland (51)
The rules and restrictions of society were not made with Tania Copeland in mind. Or, actually, they were. It's just that Tania isn't going to pay any attention to them. Like Sepei she is a strong, independent woman, but that's where the similarities end. Tania is one of a kind, unlike anyone else who has played the game of Survivor. She may be slightly older than her competitors, but it won't hold her back. This colourful 51-year old immigration consultant is a self-proclaimed hedonist and an avid rock climber who loves all kinds of adventures in the outdoors. Tania, who has raised several kids, teaches English language to adults and knows that she's always the heart and soul of a party – with our without her no-longer-guilty pleasure, a marijuana joint.  In Survivor SA she wants to be part of what she calls Team Underdog – who show the big dogs how it's done. (Oh, by the way, her father was a bank robber).
Ting-Ting Wong (25)
Ask Ting-Ting to describe herself and she will tell you that she's a doctor by profession, a healer and "empowerer" by wish and a poet and YouTuber by choice. She is indeed a memorable millennial with a love for strange and beautiful things and an interesting background. She grew up in a traditional Taiwanese household with South African influences, studied at the University of Stellenbosch and considers herself an "African Asian" who is now completing her medical internship and wants to specialise in reconstructive plastic surgery. Likeable and mischievous, but also practical and extremely wise, Ting-Ting brings an interesting dynamic – and plenty of soul and insight to every situation.
SA'ULA TRIBE
Lee-Anne van Renen (33)
Beautiful blonde mother of two, Lee-Anne van Reenen, interrupted her duties as reigning Mrs Cape Town 2018 to prove that her grit and resilience match her looks. Lee-Anne is bent on tearing up those stereotypical beauty queen labels. She's married to the bassist of the band Taxi Violence, holds an honours degree in Psychology, obtained five distinctions in matric, captained the KZN action netball team, counsels drug addicts and traumatised teens, and has survived several personal tragedies, including a cancer scare and double miscarriage. At first glance she may come across as sweet and kind-hearted – and she is – but there's a whole lot more to her. She has a spirit of steel. A mere month after the trauma of losing her twins, she completed the 947 cycle race.
Nicole Capper (34)
Nicole is a perfect  example of confidence and grace.  Her journey towards courage and living out of her comfort zone started three years ago, when her baby girl was diagnosed with a rare and life limiting genetic disease. That's when this qualified pharmacist decided to come out of her shell, break through her insecurities and live with the philosophy that anything is possible. So, she entered Mrs South Africa 2017 – an won. Thereafter, Nicole set her goals higher and higher, embarking on all kinds of epic adventures to raise funds and awareness for social causes close to her heart. She even went to the summit of Kilimanjaro and is expanding her circle of influence with modelling, motivational speaking and being the ambassador for Rare Diseases SA.  The divorced mother of two also founded Inside Out, an organisation that connects the youth with their heroes in sport and business.
Steffi Brink (27)
Survivor SA's own Lara Croft, Steffi is a fitness model, all-rounded athlete and entrepreneur who represented her country of birth Namibia at the 2015 Miss Universe pageant and participated in the Miss World Sport 2015. Steffi, who grew up on a farm, knows that you can only reach your full potential when you work hard and persevere through any kind of adversity. When you ask Steffi to describe herself, it's clear as daylight that she's not your typical beauty queen. "I am a jock and I am used to winning. I am tough and I will fight until the bitter end. Second place is just first place for the losers."  Steffi is married to heartthrob actor Clint Brink from Binnelanders and admits that she usually gels better with guys than girls. She also lives by a strong moral compass and believes that the truth will always come to light.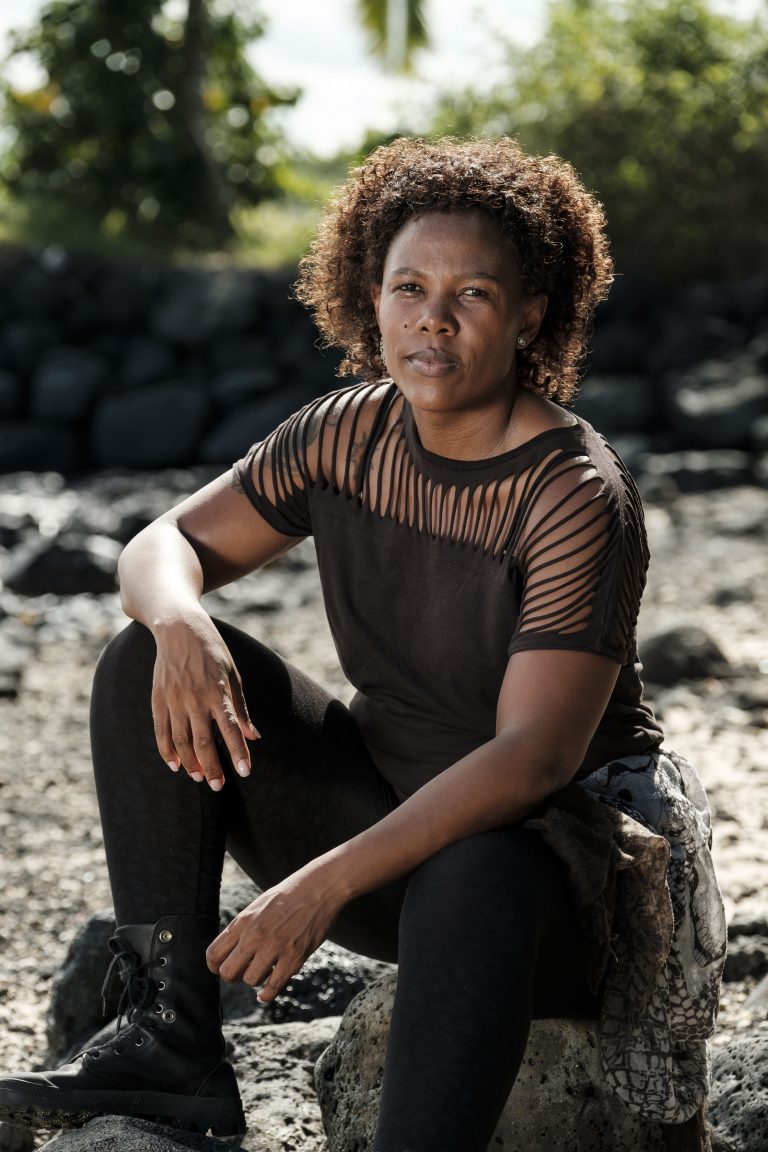 Seipei Mashugane (40)
You don't want to mess with entrepreneur and "Biker Queen" Sepei Mashugane. She is a strong, no-nonsense single mother who has built a life for herself and her two children through grit and determination, after deciding that she wants them to have access to the absolute best education. If she puts her mind to something, consider it done. And, as she admits herself, it's always her way or the highway. When she is not the driving force behind one of several business ventures, she revs it up on her Harley Davidson motorcycle on road trips across the country. As mobility, independence and emancipation are extremely important to Sepei, she also teaches women that biking holds a key to freedom. This iron lady has won several road challenges on her smokin' two-wheel chariot, but will she also lead the pack on the Survivor island?
Nathan Castle (25)
Don't be fooled by Nathan Castle's sculpted, tattooed body and flirty smile. He is a highly competitive young man who graduated with a law degree from the University of the Western Cape and he loves playing games that require mental and physical strength. This part-time personal trainer who recently became a partner at a Post Production Facility in Cape Town is also a sharp strategic thinker and a pro at playing mind games. He has Western Province colours in chess! Even though the confident, sociable all-rounder is ready to use his looks to advance his game, he acknowledges that his competitiveness sometimes comes with a bit of a temper – and that can be a risky combination.
Robert Bentele (28)
Robert Bentele is the drop-dead gorgeous exotic Trevor Noah lookalike on the show. His dad is Austrian and his mother Zulu, and even though he grew up mainly in the Zulu culture, he embraces and celebrates his unique identity. He has been a bodybuilder and MMA fighter and has climbed Mount Kilimanjaro, but for him "everything is about the energy". He is into Zen, meditation, peace, balance and spiritual enlightenment. Before he outwits, outplays and outlasts, his game strategy is to outcharm his teammates and rivals alike. "I'm a chameleon, I can be anything you want me to be," Robert says. But is it possible to stay this cool and collected while others are aiming daggers at your back?
Paul Smulders (54)
Confident, smooth talker Paul may be a little older than the other guys in his tribe, but he is in good shape. As he says himself, "I am a 54-year-old with a body that is 35-years-old,". Paul is also a motivated and positive real estate agent who has negotiated countless property transactions and is highly respected in his field. When Paul doesn't clinch deals, he loves being "the entertainer", playing pranks or churning out corny comments. This divorced father of two sons, is no pushover, though! Even though Paul wants to bring some fun to the island, he is ready to play hard, proving that he can measure up to the young guns.
LAUMEI TRIBE
Laetitia Le Roux (58)
At 58, Laetitia is the oldest castaway on Survivor South Africa, but even though she may seem like a typical Afrikaans granny she is much more than just the doting mother of five children and four grand children. Apart from being a unit manager in a subacute rehabilitation hospital, she has a remarkable CV. She boasts a Master's Degree in Nursing Education, attended to high-profile patients in Tripoli, Libya and competed in several endurance events! To top it off, all three of her sons are SA water polo players. Laetitia calls a spade a spade and can't stand what she calls lazy and stupid people as well as big mouths and know-it-alls who are just big bags of wind. This "Super Ouma" has been looking after others for all her life. She admits that Survivor SA is her opportunity to finally "do it for herself".
Mike Venter (21)
Energetic, optimistic, exuberant and motormouth-millennial, Mike is the youngest of the Survivors in the South African show's seventh season. While studying law, Mike started pursuing a career in radio, first honing his skills at varsity radio station Voice of Wits and now doing a stint on EastCoast Radio. If someone can change the world, it's Mike! Being an intelligent only-child from a middle-class family, Mike excelled at a prestigious boys' school where he was head prefect in Matric, but it's also important for him to debate socio-political issues, challenge conventional ways of thinking and questions the status quo. "It's time for the youth to stand up and claim their place in the sun – by winning Survivor," he says. Only problem is he can't sleep without taking a hot bath and gets "hangry" by 9:30 in the morning. But maybe he's just joking – because it's obvious that he can talk a good game and likes a smile on his face.
Rose-Lee Smith (33)
CSI meets Survivor SA in the guise of a mother-of-three, super-observant Rose-Lee. After completing her Honours Degree in Criminology, she joined the SAPS to use her analytic skills to ensure that those who break the law end up behind bars. Rose-Lee is a born-and-bred Durbanite who has been living in Johannesburg for the past couple of years. But no matter where she is, people have the tendency to open up to this down-to-earth good listener to tell her their deepest and darkest secrets – or just to get some advice. Rose-Lee admits that she's quite a girly-girl. Behind the beautiful, down-to-earth surface,  however, is one tough cookie, who is used to seeing blood, guts and guns.  At the beginning of the year, Rose-Lee left her husband and kids to attend brutal police training and she's recently lost 30kgs after focusing on pursuing a healthy lifestyle.
Mmaba Molefe (28)
Mmaba is a young, successful Zulu woman with an infectious laugh. This warm, friendly and sociable financial analyst, who actually may love people more than numbers, is also passionate about developing and uplifting her community. In her spare time, she runs an NGO that cultivates young leaders and also tutors Grade 8 mathematics in Gugulethu. Originally from KZN, Mmaba moved to Cape Town to study a B.Com in Accounting. She describes herself as a steady, easy-going individual who can also be persistent when there are goals to achieve. Not only did she learn how to ride a bike in her late 20s, she also worked hard to be able to afford a plot of land for her mother to build a house on. "I think people will underestimate me," the bubbly go-getter says. "And that just suits me fine."
Durāo Mariano (28)
Charming, confident and diplomatic Durāo from Durban holds a finance degree, but decided to go into the hospitality industry because he loves food, people and travel. Changing careers indeed took him all over the world, where he has learnt to adjust to many different environments. Durāo believes life is full of endless possibilities and if someone tells him that he doesn't take life seriously enough, he will reply calmly that it's his life and he chooses the best way to live it.  Working in the hospitality industry, difficult customers happen to be his bread and butter, but on Survivor he plans to have his bread buttered on both sides! The one thing he won't do, however, is use foul language. He claims to have never uttered a swear word in his life.
Geoffrey Cooke-Tenneson (33)
Geoffrey is married with children and works as a home loans consultant. And that's where normality ends in Geoffrey's world. In his own words, he's a quirky goofball who has the tendency to gossip like a school girl. To that he adds that he is a shameless manipulator who has been called a "he-bitch" more than once. Yet, this tenacious lover of whatever causes drama knows just what to say to butter people up and make them love him. Yes, he is sneaky and conniving and doesn't really care what people think about him – as long as he does what is needed to win Survivor. Not so long ago risk-taker Geoffrey won a national body transformation challenge, losing 30kgs in just three months. Then he ran the Comrades marathon after training for only six months. Anything is possible when you're Geoffrey from Colenso in KZN.
Rocco van Rooyen (26)
Sweet muscle-man Rocco is an accomplished, fiercely competitive Olympic athlete and javelinist who went to Rio in 2018 and has represented South Africa for more than six years. He may be soft-spoken, but he is a fighter of note. "I am someone who has never quit in the past and I will dominate in the Survivor challenges," he says. Yes, Rocco wants to succeed at all costs and if trouble strikes, he is known to bounce back – as his recovery from three serious injuries has proved. Giving up is not an option as he knows that hard work, a positive attitude and teamwork are what it takes to succeed at anything in life. Also don't underestimate his social skills. He is a good guy with good intentions and makes friends easily. So what could be his downfall in Survivor SA? Maybe creepy crawlies. "Goggas really freak me out!"
Survivor SA: Island of Secrets premieres May 16.
---
Written by