Over the coming months, Inside Survivor is undertaking its biggest list ranking yet, as we count down the 100 best episodes of Survivor ever. As always with these kinds of lists, it's entirely subjective, and we're sure many fans will have different opinions. This is simply Inside Survivor's ranking. Join us each weekday for a new entry.
Season: Marquesas
Episode: "No Pain, No Gain" (Episode 3)
Originally Aired: March 13, 2002
Get exclusive content and features by supporting Inside Survivor on Patreon.
OVERVIEW
In this third episode of Survivor: Marquesas, the underdog Maraamu tribe has just become the losingest tribe in Survivor history, losing the first three Immunity challenges. Another date with Jeff Probst looms, and it looks like it's time for Sarah Jones to go home. She was already the perceived weakest member of the tribe and is now the prime target of alpha male tribe leader Hunter Ellis. So, as Maraamu heads to Tribal Council later that night, Sarah's elimination seems a mere formality… except, wait, Hunter is voted out instead! How the hell did that happen?
Let's rewind a few days. Rob Mariano enters Marquesas as a brash, 20-something with clearly defined thoughts on how he wants to play this game, and it's not from somebody else's playbook. For the first couple of days, Rob lets Hunter take the reins of the tribe, allowing Hunter to build himself up as the most dominant figure, all the while biding his time until he can make a move of his own. Now, on Day 12, with his island girlfriend firmly on the chopping block, Rob makes like a mafia boss, delivering his infamous "fear keeps people loyal" confessional and takes his shot at Hunter.
It should be noted, however, that this move isn't solely a one-man operation. Vecepia Towery, the eventual winner of Marquesas, does a fantastic job of pumping up Hunter's ego to the point where he never sees the move coming. It's a perfect highlight of Vecepia's stellar social game compared to the more cutthroat nature of Boston Rob. Rob also receives help from his right-hand man Sean Rector, who is none too pleased with Hunter's commanding attitude around camp and is more than happy to send him packing.
Not to be forgotten, this episode also serves great educational purposes, as Survivor fans learn the proper way to treat a sea urchin sting. John Carroll encounters the dangerous sea creature and wails out for help: "I need someone who can pee on my hand!" Paschal English has performance issues, and so it's up to Kathy Vavrick-O'Brien to come to the rescue, unleashing a golden shower onto John's hand to relieve his prickly pain. So, for the next time you face one of these sea threats, remember to fight urchin with urine.
As the above shows, this episode is very funny. Not only do we have the hand-peeing, but there is a series of unfortunate injuries on the Rotu tribe. Robert "The General" DeCanio slices his toe on a rock, and John is later bitten by an eel. The Maaramu tribe, meanwhile, continues their morning radio show skit. This particular edition features Sean, one of Survivor's best characters, playing a disgruntled Al Sharpton. He "calls" into the show to air his grievances about the prejudices held against the black no-nos (a flea-like bug on the island). "Why are the black no-nos being blamed for everything?" Sean asks. "The black no-nos get blamed for all the bad stuff, and it's a conspiracy!"
"No Pain, No Gain" is a top-to-bottom brilliant episode with closely fought challenges, hilarious moments, and a shocking blindside. The Hunter vote is monumental at this stage in Survivor history, as no big, alpha, leader-type like that had ever been voted out in the pre-merge. While it was certainly an unconventional strategy at the time, it was a clear indication of just how hard Rob, Vecepia, and Sean were willing to play and flip the game on its head, which would foreshadow an even bigger move later in the season.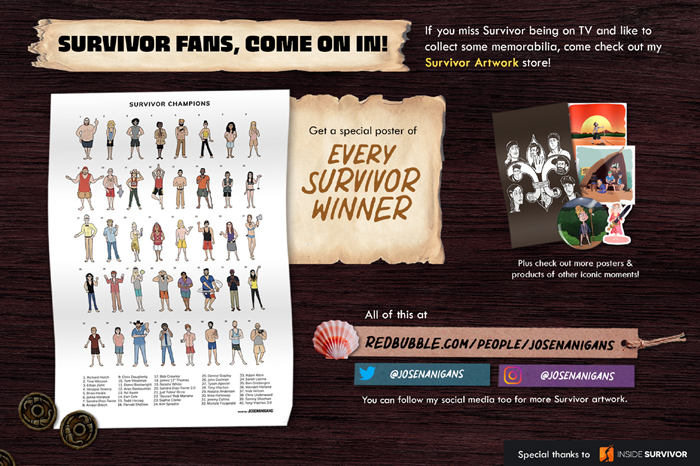 Check back tomorrow when we reveal which episode placed at number 70. You can check out the previous entries here.
---
Written by
---