Heath Chick recaps the events of Australian Survivor episode twenty-three.
After the producers of Australian Survivor again committed the horrific crime of airing another episode without a Tribal Council, we pick up Episode 23 of the season following the division of the Fia Fia tribe as part of the previous reward challenge.
Matt, Kristie, and Flick have enjoyed a good night's sleep and a feed as part of the spa treatment for winning the reward challenge, and it's given them a chance to bond strategically. Flick is again the power player, saying she's ready to finally break up the power couple of El and Lee in what could be another classic Flick-flip. "It could probably come back and bite me hard," says Flick but Kristie reassures her that they are in this together while Matt is pretty happy with the new alliance.
Meanwhile, Lee, El, and Sam have been banished to Exile Beach where they have endured a terrible night with no food, no fire, and no sleep. Even Lee is finally showing some cracks as he says it's the worst shape he's been mentally for the entire game.
The two divisions come together the next day for the reward challenge where it's revealed that the two trios will be the two teams of three for this challenge. It's Team Spa versus Team Exile! The challenge involves one person cracking coconuts and pouring the water into a cup for the second person to transport carefully across a balance beam. They will then pour the contents into the mouth of the third person who will then run across another obstacle before spitting the coconut water into a container. Whoever hits the required mark of the container first will win an advantage at tomorrow's immunity challenge.
"I've got a big mouth," declares Flick as she will run the final leg, with Matt on coconut cracking duty and Kristie carrying the cup for Team Spa. El is cracking coconuts for Team Exile, passing to Sam who will pour into the mouth of Lee. You would have to think that no sleep or food is going to put Lee, El, and Sam at a huge disadvantage here and they are certainly off to a slow start with El struggling to get through the coconuts with her rock. Fortunately for them, Kristie is spraying the contents of her cup everywhere for Team Spa and not even Flick's big mouth can catch it. Team Spa lead early, but the efficiency of Sam pouring to Lee with little wastage is enough for Team Exile to score an unlikely victory.
They head back to camp with the Fia Fia tribe now together as one as Lee, El and Sam enjoy their first feed in 24 hours with some lovely rice and bean sludge.
The focus of strategic discussion throughout this, and previous, episodes, is the power couple of Lee and El and if their bond can be broken. Lee and El talk on the beach about spooning each other at night since day one. They say it's gone from a practical thing to keep warm, to a comfort thing to give each other a feeling of safety. Is there a romantic subplot forming here? "I have feelings for El inside of the game because I think she's an amazing person. But I'm not making any assumptions," says Lee.
Meanwhile, the other four are plotting the downfall of the power couple. Matt talks to Sam about the potential new alliance with Flick and Kristie, and they are both excited by the opportunity. Matt says he was at his lowest point last Tribal when he thought Lee and El were going to win, but he now thinks he has a real shot at it.
Amazingly, these guys have been marooned on this island for 49 days, and they talk about how they only have six more days to go before it's all over. No doubt it's been an enormous physical effort to get this far, but with the intensity of the game reaching a whole new level, it's going to be a massive test for them mentally as well. One person who is struggling with that is Kristie. She talks to the camera about how she's unsure about Matt and Flick, especially since Flick has been "lying and backstabbing the whole game." She compares that to Lee who has proven to be trustworthy from day one.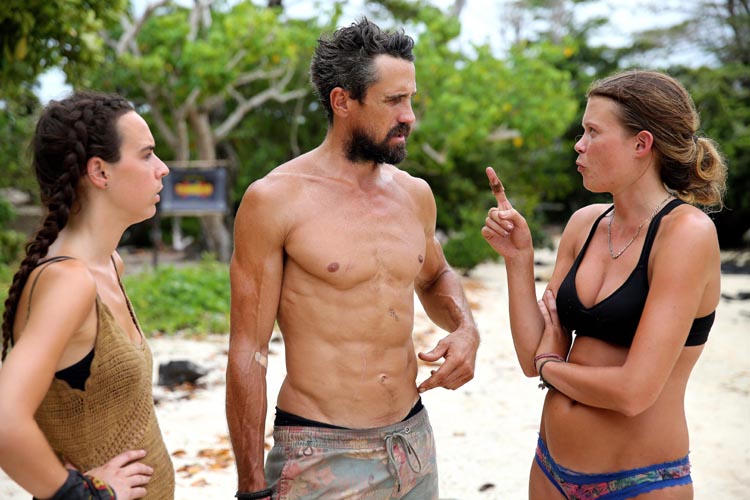 The moral dilemma seems too tough for Kristie to deal with as she breaks down at camp as her anxiety takes over. She says she doesn't want to compromise who she is as a person. There's no doubt her emotions are genuine, but it seems that everyone in camp has developed a soft spot for Kristie and her quirks, and they are proud of the way she has fought through her own battles during the game. Flick gives her a hug and Lee reassures her by telling her not to let people plant seeds of doubt in her mind.
Hearing those words has Flick worried about Kristie, and if she'll stay true, so she decides to cut her off by approaching Lee and El first. Flick is happy to play both sides and choose whichever side fits best for her game.
It's time for the immunity challenge which is a classic floating pyramid challenge. Stand on a thin step on the side of the pyramid for as long as you can and the last person standing wins immunity.
It is then revealed that Lee, Sam and El will be allowed to start this challenge ten minutes after everyone else as their advantage for winning the previous reward challenge. That's a huge handicap, and it's enough to see Flick fall off before the others have even started. Kristie and Matt soon follow, and it's left to El, Sam, and Lee to battle it out. They hold for a full 90 minutes before they are finally asked to transition to the top beam of the structure. It's mission impossible from there, and one little wave is enough to send El and Sam crashing into the water to leave Lee to win back-to-back immunity challenges.
Back at camp and Sam and Matt agree to vote for El since Lee won immunity. "It's our hero move," declares Matt. They are going to take out the two top dogs. Matt then talks about needing four people to make this move since Lee has his advantage, which is the first time that's even been mentioned since Lee won it way back when. They need Flick and Kristie on board.
Meanwhile, Lee wants Sam out after his attempted blindside with Brooke. They decide on a strategy to split the votes across Sam and Matt in case one of them has an idol. Kristie and Flick are right in the middle of the alliances, and no one seems sure which way they will go. "Everyone seems tense," says El in the middle of camp.
Kristie and Lee wander off together, and Kristie spills the beans about Matt and Flick plotting to remove El. Kristie says she has been so confused all afternoon and doesn't know which way to go. Despite the confronting news, Lee stays rock solid with his advice as he tells Kristie "this is your test." Kristie responds to Lee by saying that she thinks one of Lee or El is going to win.
It seems that those in camp, as well as many of the viewers at home, are growing to Kristie. There are times where her intuition and instincts are definitely spot on, but she really has been carried to this point, and even now, seems so uncertain of her next step strategically. Lee and El are now worried by what Kristie said to Lee but they just can't understand why Flick would re-flip on them. El goes off to get reassurance from Flick before they head off to Tribal.
Jonathan LaPaglia kicks off with a question about the importance of tonight's vote. Matt says that it's important to make every vote count, but if you're not at the top then now is probably a good time to take some action. Lee then pipes up, and I tune out. It's something boring about integrity I'm sure. Basically, Lee would prefer the game not to have any moves at all and whoever has the most chiselled abs just wins.
JPL quizzes El about her excitement that Lee won immunity and El doesn't hold back saying that she was happy that Lee won because she wants to vote for Sam tonight. She says their trust is gone after they tried to blindside them. "It blew up in my face. I'm a sitting duck," admits Sam.
Matt then talks about the hierarchy in the tribe. Lee and El are on top, with Kristie and Flick in the middle, which leaves Sam and Matt on the bottom. El denies being in charge. She says that Kristie and Flick are the ones in the power position as the swing votes. Flick says that anyone could potentially be running the show and anything could happen tonight, while Kristie again says she's playing as an individual.
After reassurance that everyone is apparently sticking to their word, it's time to vote. But before they do, Lee interrupts JPL, and the sounds of the grossly over-dramatic music can only mean one thing – Lee is finally going play his advantage! Lee's advantage allows him to restrict one person from voting and it's no surprise to see him play it on Sam.
The votes are cast, and El pulls only one vote, with Sam and Matt each pulling two votes. It seems that Flick and Kristie have stuck with the power couple alliance after all. With no one using an idol, the revote leaves it as a unanimous decision to eliminate Sam from the game.
I must say that I was surprised to see the votes fall this way as I was half expecting Flick to flip again and remove El from the game. However, if Flick can keep tight with Matt and Kristie, then they are in great shape to finally remove El and Lee over the next two Tribals and run all the way to the end and the half million dollar prize!
---
Written by