Having been spared elimination in the previous episode, twins Lula & Lana know there is no room for errors nor bickering should they want to survive.
ROUTE INFO: NCP CAR PARK
Along with all ten teams, the twins must make the 400-mile train trek from London to Glasgow, Scotland, where they will receive their next clue in marked cars waiting for them. Oh yes, these cars are manual; this never causes issues or arguments on The Race (insert sarcasm here).
ROUTE INFO: ÒRAN MÓR
Teams must drive those dreaded manual cars to Glasgow's Òran Mór, where they will receive their next clue.
Out of the gate, we have teams unable to make it, well, out of the gate and are stalling in the cars. However, married parents Kim & Penn are able to navigate their way through the heavy Glasgowian traffic and are the first to reach Òran Mór.
ROADBLOCK: Who thinks they have this one in the bag?
One member of each team must assemble a bagpipe and then play a note as long as a traditional Scottish anthem to receive their next clue.
Kim begins to assemble her bagpipe as the remaining teams fight for second place. Arun & Natalia appear to have no problem with the manual transmission but plenty of issues with direction as the duo miss a crucial exit on the highway.
The ever-consistent teams in Ryan & Dusty and Anthony & Spencer are also at the Road Black by this stage; however, Kim retains her and her husband's lead as she's the first to complete the task.
ROUTE INFO: Walter Macfarlane Fountain
Teams must drive to Walter Macfarlane Fountain in Alexandra Park.
Kim & Penn lead the way with the buddy duos of Ryan & Dusty and Anthony & Spencer following closely behind. Meanwhile, teams are falling into the same directional traps that Arun & Natalia were as most teams are STILL struggling to locate Òran Mór.
Quote of the night: "I'm more of a positive vibes type of guy." – Ray in a post-leg interview, meantime in real-time, he's just pulled over, stormed off, and told Caro to get a license.
Kim & Penn further extend their lead and are the first team to arrive at Walter Macfarlane Fountain.
DETOUR: KILT or REBUILT
In Kilt, teams must don a kilt and sing what surely will be stuck in all Race fans' heads for weeks to come, "Donald Where's Your Troosers." In Rebuilt, teams must work as coopers in a whisky barrel warehouse and put a head onto two barrels.
Right in their wheelhouse, Kim & Penn, who make song and dance videos for a living, opt for Kilt.
Teams are FINALLY finding Òran Mór, with Arun & Natalia the first to complete the bagpipe roadblock. However, after completing the task, Natalia takes her sweet time and assists multiple teams, much to the chagrin of her father, Arun.
All teams have now finished the Road Block, seeing Taylor & Isaiah slip into last, with many if not all teams struggling with directions once again.
Leaders throughout, Kim & Penn are the first team to complete the Detour and receive their next clue.
PIT STOP: University of Glasgow
The last team to arrive WILL be eliminated.
It's now come down to a seven-team race, as Anthony & Spencer and Ryan & Dusty complete the Rebuilt half of the Road Block before any teams arrive. Connie & Sam, Racquel & Cayla, and Caro & Ray are the first set of teams to arrive at the Detour. Having many a barrel-building blunder, Arun & Natalia decide to switch Detours and head over to Kilt.
Connie & Sam, Racquel & Cayla, and Caro & Ray all make quick work of Rebuilt and head to Phil. Meanwhile, Akbar & Sheri are at the back of the pack, having not even reached the Detour.
TEAM NUMBER 1: (to the surprise of no one) Kim & Penn
Last leg last-placers in Lulu & Lala hit all the right notes and jump into seventh place when they complete Kilt, seeing Akbar & Sheri, Taylor & Isaiah, and Arun & Natalia fall even further behind.
TEAM NUMBER 2: Ryan & Dusty
TEAM NUMBER 3: Anthony & Spencer
Taylor & Isaiah, and Arun & Natalia are struggling with Kilt, but hey, at least they're even AT the Detour; Akbar & Sheri are still trying to make their way there.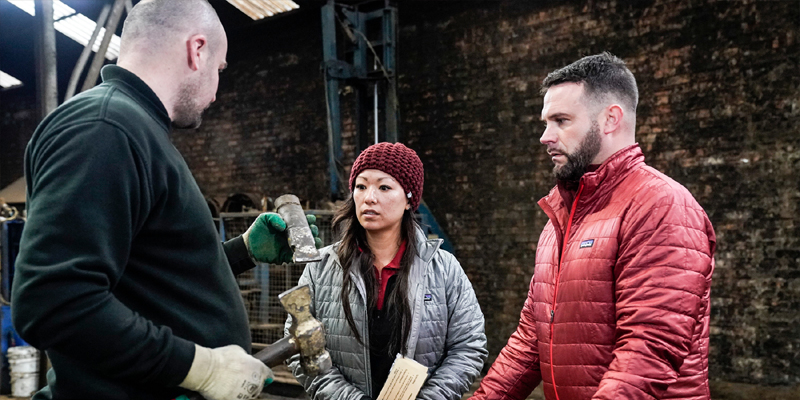 TEAM NUMBER 4: Connie & Sam
TEAM NUMBER 5: Caro & Ray
TEAM NUMBER 6: Racquel & Cayla
Taylor & Isaiah complete Kilt, leaving Arun & Natalia and the finally-arrived Akbar & Sheri to duel it out for ninth place. Having stumbled repeatedly, the pressure is on for Arun & Natalia to complete the task as Akbar & Sheri wait in the wings.
TEAM NUMBER 7: Lulu & Lala
TEAM NUMBER 8: Taylor & Isaiah
Akbar & Sheri knew exactly where Donald's trousers were and smashed the task on their first try, leaving the Detour-switching Arun & Natalia solely in last place. Once again, we find Akbar & Sheri struggling with directions while making their way to the Pit Stop. Arun & Natala finally complete the Detour.
TEAM NUMBER 9: Akbar & Sheri
LAST TEAM TO ARRIVE: Arun & Natalia
Get exclusive content and features by supporting Inside Survivor on Patreon.
Once the leg has ended, it cuts to the next day, where Phil has gathered all nine remaining teams regarding the current status of the race. Having begun filming the season in February 2020, we all know now in January 2022 that February 2020 was when COVID-19 started to hit countries around the globe. Phil explains to the group that the race will be suspended in light of this.
We all of a sudden flashforward 19 months later to St Gallen, Switzerland, where Phil greets only five of the remaining nine teams, the five of which being Kim & Penn, Akbar & Sherri, Ryan & Dusty, Lulu & Lala, and Racquel & Cayla. It's no surprise that not all of the nine remaining teams made it back to the race; work, health, family commitments could all be a part of it, and it's a shame we didn't get to see how the race played out for those who missed out.
Going forward, Phil says there will be teams added into the mix, teams comprising of some familiar faces, so are we talking eliminated teams from this season, previous fan-favorite teams, celebrities, who knows?
Just like the end credit of the episode read, to be continued…
---
Written by