Up next is the Jerri Manthey Award for Most Likely to go from Zero to Hero.
One of the most interesting facets of a returnee season is it gives a chance at redemption for players that were previously villainized, maligned, or considered weak or ineffective players. A perfect example of this is Jerri Manthey. The original villainess of Survivor, Jerri Manthey was a public hate figure in the Australian Outback and was tossed aside by her own alliance (an unprecedented move at the time). In her return to All-Stars, Jerri thought she was doing everything right, but her criticism of new Survivor poster boy Rupert was met with more public disdain, she was booted out again by her own alliance, and she was booed off stage at the live reunion. Then in 2010, six years later, Jerri returned yet again to Survivor: Heroes vs Villains, this time happily embracing her villain role. She not only gained public support, but she made it all the way to the Final 4 and was voted out because she was a jury threat, and she was cheered at the reunion. A true zero to hero story if there ever was one.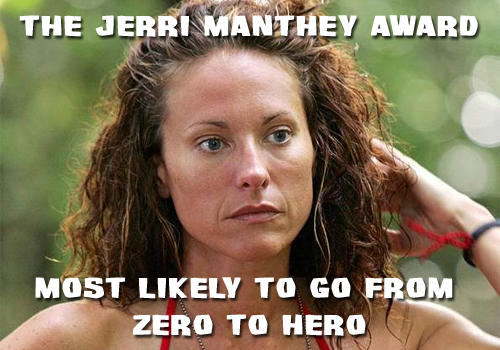 But the Zero to Hero category doesn't just mean reformed villains, it also includes players like Cochran who didn't live up to expectations the first time around, only to return and triumph on their second attempt. Survivor: Cambodia – Second Chance is built around the theme of redemption; not one of these players won on their first attempt. The hero's journey awaits at least one of these people. I have nominated the two men and two women I think have the best chance of going from Zero to Hero.

ATTENTION SURVIVOR FANS – You can SAVE 10% on the purchase of any past Survivor Buff courtesy of PlanetBuff.com when you use the exclusive coupon code: INSIDESURVPAST
Kimmi Kappenberg – Kimmi only had one moment during Survivor: The Australian Outback that could be considered "heroic", and that was when she ate a mangrove worm to help the Kucha tribe win Immunity. Other than that, she was loud, obnoxious, and got into arguments with her fellow tribe members. She was the 5th boot of the season. But back then Kimmi was young and immature, now she is older and has children, and is coming into the game with responsibilities. Kimmi definitely has the potential to do a Jerri and redeem her image, and even make a deep run in the game if everybody else targets the big threats first.
Kelley Wentworth – Kelley falls into that Cochran category of a player that had tons of potential going into the game and never quite reached the expectations fans had for her. She managed to get into a solid alliance early on, but she didn't keep her options open enough. After the tribe shuffle, she ended up on the wrong side of the numbers, and like Kimmi was the 5th boot. Wentworth's biggest upside is that her strategy is relatively unknown and untested, so she shouldn't come across as an immediate threat, and given a chance to get a foot-hold in the game, I believe she could do some serious damage.
Jeff Varner – the man that gave up a chance at Immunity for Peanut Butter and was subsequently voted out at the merge, missing out at a spot on the jury. Varner will be looking to correct that mistake and show the world that he really does have the strategic skill that he talked about in the early days of Survivor: The Australian Outback. Varner's original season was so long ago that he should be able to slide by the first couple of eliminations without much attention, and before people realize how big a threat he is, it'll be too late because they'll be sitting in Ponderosa.
Jeremy Collins – another player that thought he had it all worked out. Jeremy was actually playing a pretty solid game pre-merge, only to be blindsided by his own allies at the merge. Jeremy talked a good game and was quick to call his other cast-mates "so dumb", but his ego clouded his self-awareness and it cost him. Having to watch the likes of Keith and Wes play the game while he sat on the jury was not Jeremy's plan. He will be out to prove his strategic prowess in Cambodia, and while I think he could risk overplaying, a couple of big moves could really set him on the hero's path.
Vote below for which of these four nominees you think is Most Likely to go from Zero to Hero in Survivor: Cambodia. Results will be announced in September.
THIS POLL IS NOW CLOSED!
Photo Credit: Rosmarie Voegtli via Compfight cc
---
Written by