What is this Ultimate Autographed Survivor Buff® Fundraiser all about?
Fans of SURVIVOR who have been watching this current season, Survivor: Millennials vs. Gen X, will remember contestant Adam Klein's emotional breakdown in episode four when he found a hidden immunity idol and talked about how his mother was suffering from stage-4 lung cancer back home. It was a scene that touched us all as we felt Adam's pain and heartbreak. Sadly, Adam's mom Susie lost her battle with cancer this past Spring.
Now, PlanetBuff is doing their part to give back. PlanetBuff will be holding the Ultimate Autographed Survivor Buff® Fundraiser, selling a selection of limited edition autographed Buff® designs, signed by past and present Survivor contestants. 100% of the profits will be donated to Stand Up 2 Cancer in honoring the life and legacy of Susie Klein, Adam's mother!
PlanetBuff about the fundraiser:
"Here at PlanetBuff, we were raised to always give back. Plus, you know sometimes when you meet special people, you want to do something special for them and what they believe in. We had the honor of meeting Adam Klein and his father Alan over the summer, and we felt an immediate bond with them. They are special, determined people who lost the most important person in their life to lung cancer this past spring. They spoke of honoring Susie (mother-wife) and helping further the cause of curing lung cancer. It made us here at PlanetBuff want to help their cause, and we hope that using the vehicle of Survivor, and autographed Survivor Buff® designs from many past seasons can help!"
Adam about his mom Susie:
"She never saw herself as sick, and she lived with such zest that I can only hope to do the same. So now I'm trying to educate people about lung cancer. Lung cancer is by far the biggest killer of any cancer but the funding for it isn't there. Her passing is totally meaningless as far as we see it. If we can inject some meaning into her passing, that's what we want to do. We're trying to do that by 1) raising money for lung cancer research on YouCaring so other families won't have to go through what we went through and 2) inspiring people to live like she lived. She was full of love, full of life, full of energy and laughter. If we can do either or both of those things we can bring some meaning into what seems pretty meaningless right now."
You can visit Adam's YouCaring page for Susie Klein where you can also help Adam's goal of raising $50,000+ to help end lung cancer.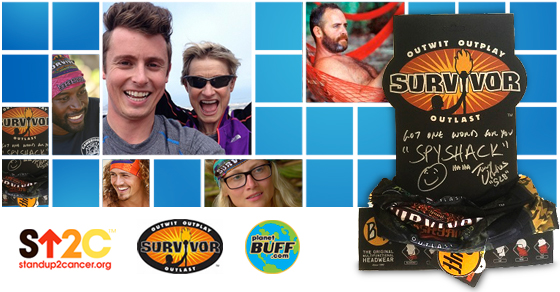 Details:
The Ultimate Autographed Survivor Buff® Fundraiser will launch at PlanetBuff.com on Tuesday, November 1st! The launch will be announced via PlanetBuff FACEBOOK as well as a PlanetBuff Email Blast to current subscribers. So sign up now to either if you are not part of our PlanetBuff family of notifications. Please note that quantities are limited (2 to 5 Survivor Buff®) per Survivor contestant. Over 150 autographed Survivor Buff® designs signed by 28 former Survivor contestants including 7 past "Sole Survivor" champions! The full list of participating contestants will be revealed November 1st.
There is also one very special, non-Survivor Buff® autographed item. There is nothing like it in the world, so you will definitely want to check in early to the fundraiser on November 1st!
A big thank you to all the past and present Survivor contestants that took part in this fundraiser for a very special cause!
About Stand Up 2 Cancer:
"Stand Up To Cancer's (SU2C) mission is to raise funds to accelerate the pace of groundbreaking translational research that can get new therapies to patients quickly and save lives now.
SU2C brings together the best and the brightest researchers and mandates collaboration among the cancer community. By galvanizing the entertainment industry, SU2C has set out to generate awareness, educate the public on cancer prevention and help more people diagnosed with cancer become long-term survivors.
At Stand Up To Cancer, we pride ourselves on financial transparency. Our mission is to fund collaborative, translational cancer research to bring treatments from the bench to the bedside faster, and save lives now.
Since Stand Up To Cancer was founded in May 2008, over 160 clinical trials have been planned, initiated, or completed by SU2C scientists, in which more than 9,000 patients have participated.
100% of donations received from the public support collaborative cancer research programs.
Stand Up To Cancer is a program of the Entertainment Industry Foundation (EIF), a 501(c)(3) tax-exempt organization."
For further details visit: https://www.standup2cancer.org
---
Written by