Edit Bay this season is going to be a much shorter analysis due to spoilers. However, I will still assign ratings to each player, so readers can track the chart throughout the season. And I will highlight a few potential story arcs and important alliances. But there will be no discussion of potential winner edits.
OVERVIEW
Most of this episode centered around idols and bird cage drama, which, while fun to an extent, means that we're still severely lacking in tribe dynamics and relationships.
The opening scene on Ratu cleared up some of our questions after that messy tribal council last week. But all we really know is that Kane is seemingly on the outs, further established later in the episode when the rest of the tribe clocked onto his idol searching.
Soka further highlighted the Matt and Frannie relationship and how the tribe is becoming aware of that. While the rest of the content was about Danny finding the idol and dealing with the bird cage.
Tika was also mostly bird cage centered, with Carolyn being the one to find it. This did allow for more character depth for Carolyn and continued her story arc of being the odd one out. Their going to tribal council also helped flesh out the dynamics somewhat.
Still, at this point, it feels like this season is only just scratching the surface of what these castways have to offer.
ALLIANCES & CONNECTIONS
Frannie & Matt (Pair) — This episode gave even more air-time to the Frannie and Matt pairing (potential showmance?). And this time, we saw how it was affecting the rest of the tribe, with their closeness perhaps making them a target. Claire, in particular, was presented as an antagonist against this relationship.
Frannie seemed aware of this and wanted to keep her distance from Matt. As we said last week, this appears to be an important pairing, and even more so now that they have an obstacle to overcome.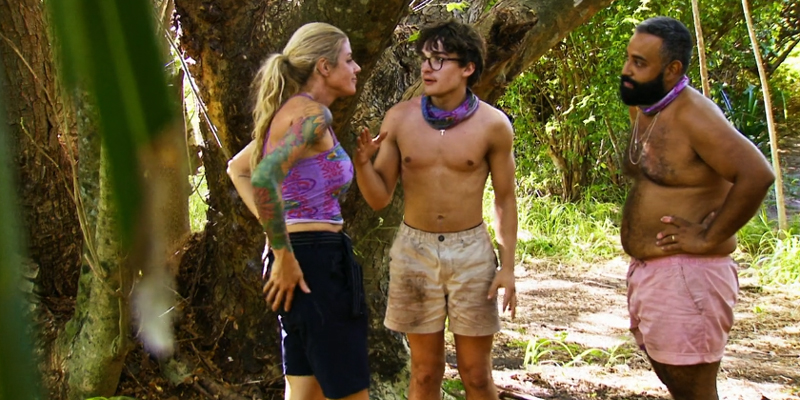 Carolyn, Carson, & Yam Yam (Alliance?) — Carson's previous day one alliance with Helen and Sarah fell apart at their first tribal council. In its wake, we have this new threesome. As this three actually voted together, it would seem reasonable to think there is more weight to this trio than the previous one.
Brandon & Matthew (Pair?) — We still haven't gotten a clear idea of the dynamics on Ratu, but Matthew did explain his decision to play his Shot in the Dark last week. And in that reasoning, he told us he didn't want Brandon to go home. So there is still potential for this to be a partnership moving forward.
STORIES
Odd One Out — Carolyn's story continued from the first episode, where she felt herself becoming the odd one out around camp. But this predicament actually allowed her to find the idol and escape with it without suspicion. Interestingly, Kane also has this story going for him now too over on Ratu.
A Nerdy Romance — As mentioned already, there was a lot more focus on Frannie and Matt's bond. It is set up to be a point of contention when/if the Soka tribe goes to tribal council, with Claire as a potential threat to the pairing.
Lauren's Lies lead to Power — We had a brief update from Lauren where she reminded us that she banked her vote. She said this gives her the power in the tribe now. However, we know that Matthew and the rest of the tribe are aware she didn't tell the truth about her Summit visit. So this could be a story of mistaken confidence.
Matthew's Mid-Life Adventure — While he didn't have as much visibility as last week, the content Matt did receive in this episode was really good. He got to explain his decisions at the last tribal council and how they benefited his game. And then he had a really positive moment at the challenge when he clinched the win for the Ratu tribe and talked about powering through the pain (and building his own puzzle at home).
Chief Laziness Czar — I definitely felt like this episode was painting Claire in a slightly villainous light. There were a lot of shots of her disgusted reactions to the Frannie & Matt relationship. And you also had Probst questioning her choice to sit out of the challenge. Probst's reaction tied back to the "chief laziness czar" scene where Claire talked about letting Danny tire himself out. And the fact that Danny found the idol certainly made Claire's "laziness" look bad. It will be interesting to see if this becomes a running theme with Claire's edit.
EDGIC CHART


| | | | | | | | | | | | | | | |
| --- | --- | --- | --- | --- | --- | --- | --- | --- | --- | --- | --- | --- | --- | --- |
| Name | EP 1 | EP 2 | EP 3 | EP 4 | EP 5 | EP 6 | EP 7 | EP 8 | EP 9 | EP 10 | EP 11 | EP 12 | EP 13 | EP 14 |
| Brandon | CPM5 | MOR2 | | | | | | | | | | | | |
| Carolyn | OTT3 | OTT5 | | | | | | | | | | | | |
| Carson | MORP3 | CP5 | | | | | | | | | | | | |
| Claire | UTR2 | UTRN3 | | | | | | | | | | | | |
| Danny | UTR1 | MOR3 | | | | | | | | | | | | |
| Frannie | MOR3 | MORM3 | | | | | | | | | | | | |
| Heidi | MORP2 | UTR1 | | | | | | | | | | | | |
| Jaime | OTT3 | UTR1 | | | | | | | | | | | | |
| Josh | UTR1 | INV | | | | | | | | | | | | |
| Kane | MOR3 | MOR3 | | | | | | | | | | | | |
| Lauren | CPN4 | UTR2 | | | | | | | | | | | | |
| Matt | CP4 | MORM3 | | | | | | | | | | | | |
| Matthew | CPP5 | CPP2 | | | | | | | | | | | | |
| Sarah | MOR3 | MOR2 | | | | | | | | | | | | |
| Yam Yam | MORP4 | CP4 | | | | | | | | | | | | |
| Helen | MOR3 | MOR4 | | | | | | | | | | | | |
| Maddy | MORN3 | | | | | | | | | | | | | |
| Bruce | UTRP2 | | | | | | | | | | | | | |
---
Written by