This season of Australian Survivor has not disappointed. From the pre-season grumbles about the returning theme to the collective public emotional breakdown over Luke's exit, this season has delivered brilliant characters and top-notch gameplay week after week. Fan favourites and threats to win have risen only to have their life in the game extinguished. It became evident quickly that it didn't matter who you are—male, female, Contender, Champion, strategic, physical, likeable—as everybody was there to play and could fall victim to JLP's snuffer at any time.
Luke's elimination, while heartbreaking, was in the best interests of all remaining castaways. He was strong socially, physically, and mentally. Given the chance to pitch himself at Final Tribal Council, Luke had a personal story about his family that could draw tears from a stone. There has been some push back against Pia for her choice to vote Luke off, but knowing that Luke is not only a threat for FTC but to win Immunity, Pia would have created a much steeper hill to climb if Luke was still blocking the path.
The episode opens with the inner workings of each castaway. Each has their own personal journey. Superfans Harry and Pia have dreamed of playing and are confident they can win if they can just make it to the final two. Baden has undergone a personal transformation. The young PhD student saw Samuel Hinton on the 2017 Champions vs. Contenders and was inspired to try out for the show himself. He self-describes as being introverted, shy, and risk-averse in his day to day life. But his stint on Survivor has transformed him into a social butterfly that has gotten himself to the final three without a single Immunity win.
Australian Survivor always delivers a doozy with the final Immunity challenge. Since its revival in 2016, the final challenge has always been a feat of endurance—although it requires some strength and balance it has come down to a game of who will outlast the pain until the very end. The winners have been at times unsurprising (Jericho and Sharn) and other times mindblowing (Kristie comes to mind). Here, Baden, Harry, and Pia must hold up two idols while balancing barefoot on wooden pegs, and the contestants' loved ones are present to provide support throughout the challenge. Harry's girlfriend and mother explain how Survivor has always been a dream for him. Pia's husband coaches her as she struggles, telling her he couldn't be any more proud of her. Baden's brother and parents are amazed at the person before them, seeing Baden as more outgoing and more confident than the usual "nutty professor" they have at home.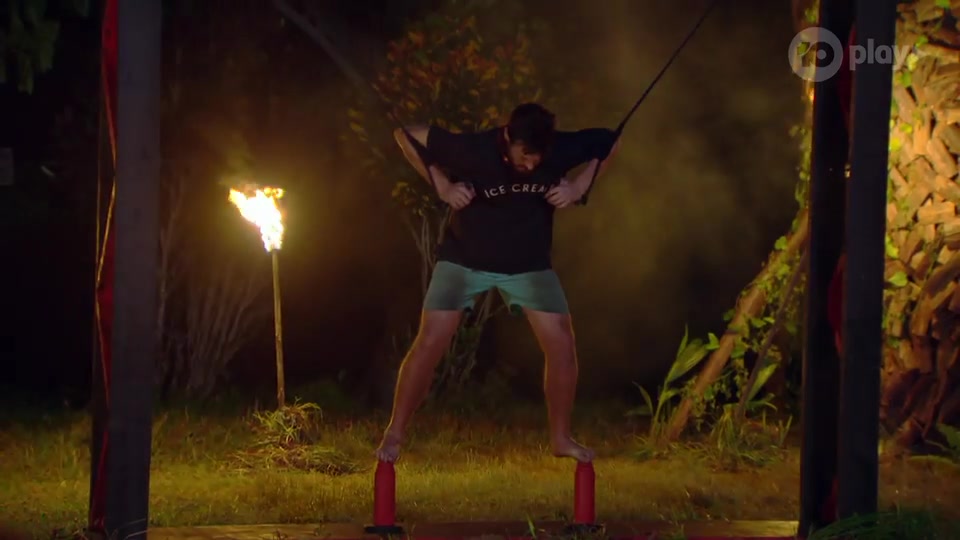 The castaways all outlast the current record for an Australian Survivor Immunity challenge, lasting over 6-and-half-hours, but then things begin to fall apart quickly. Pia groans in pain. Harry's legs begin shaking uncontrollably. Baden… discusses the stars. In fact, Baden seems to be cruising while the other two are literally about to snap in half with pain. Sure enough, Harry and then Pia both ask JLP to help them off the apparatus and out of the challenge in ten short minutes. Baden, the underdog who everyone thought would be carried to the final, snatches the alluring Immunity necklace and will have the deciding vote on who reaches the final two with him.
It's then straight to Tribal Council, and the jury's disbelief at Baden's win makes the entire series worth watching. Pia and Harry battle back and forth as Baden's head swivels like a busy night at the tennis. First, they state why the other has a stronger chance to win, and then they plead to Baden why he should take them. Harry points out the majority of Champions on the jury. Pia rebuts that she voted most of them out. Pia explains that Baden and Harry have similar games, and that will make it hard for Baden to own some moves. Harry replies that Pia is proving how convincing she can be, and it isn't even FTC yet.
Baden seems flummoxed by the entire situation. As the rally continues JLP poses the magic question, "Are you willing to bet half a million dollars?" I don't think there's a clear answer about who is the best to take, both Harry and Pia could make a convincing case. But I believe Pia's argument that taking down Harry (the cockroach) will be a huge move for the jury that nobody else can claim. Pia empowers Baden, and I think this is what ultimately tip the scales in her favour. Baden seals his fellow remaining Contender's fate and makes Harry the final juror.
Dirty Harry hasn't always been my favourite castaway this season. To be truthful, I've found him mostly irritating. From my perspective, his "big moves" have seemed to go astray rather than as planned. Some of his ideas seemed unnecessary (lying about having a kid springs to mind), but even though I didn't think his gameplay was brilliant, it was no doubt entertaining. He had a willingness to play the game no holds barred and, although it wasn't my cup of tea, it was certainly a pleasure to see another superfan of the game on the island.
Baden and Pia have earned the chance to plead their case to the jury, a delicious breakfast on the beach, and the knowledge that they've gone as far as they can. Both of them reflect on their journey so far. Pia is a fan of the show that is living her dream and could use the win to improve her family's life. She explains that despite being lucky to have a career in acting, she still has to work other jobs to make ends meet. Baden, on the other hand, has had tremendous personal growth and wants to show that nerds don't always finish last. Both need to prove that they have been playing hard the whole game and not just hiding behind flashier players.
JLP welcomes in the jury, and the show gets underway. Pia and Baden have similar pitches. Both came in knowing that the type of game they needed to play was under the radar but had to resist being led through the game. Baden talks about wanting to take the position of power at the very last moment. He wanted control "right where it matters most," knowing that a leader is likely to be taken out as soon as they are identified. Pia discusses building the early Champs alliance and having a buffer of strong players around her but remaining "fiercely strategic" at all times. Both deflect the accusation of being a goat (and Pia gives David a massive smackdown about the best way to play Australian Survivor).
Pia and Baden both have worthy cases, and I really think the strongest argument Pia has is…well, her argument. Where Baden is restrained in his accusations against Pia, she retorts with vigour and defends her actions by saying she would do anything to win (and smile while doing it). Pia's extra years of life experience and confidence speaking to a crowd stand her in good stead. Where both castaways can articulate their strategy, Pia is able to do so with flair and conviction. Baden at times seems confused—perhaps a result of the editors—but given a bit more self-confidence I really think that Baden could've presented his case to the jury much more strongly than what came across.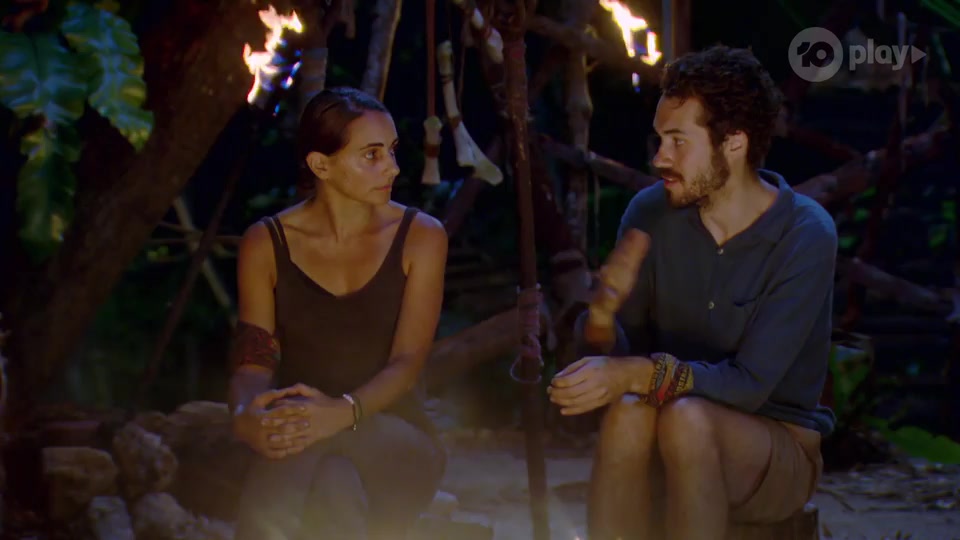 The votes, read live on the island, are a washout. The first unanimous vote in Australian Survivor history and I couldn't be more thrilled that is went to Pia Miranda. Pia is a big fan of the game who took what she knew of the franchise in its entirety and put it into action. From the very first day, she was wheeling and dealing and getting herself off the block and into an alliance. After being a target at the very first Tribal Council, Pia has managed to scramble to the very end of the game, making moves and maintaining a strong social game. On an interesting note, Baden was also a target at his first Tribal, so it seems that the targets eventually became the masters.
As the final scenes roll (including a funny voting confessional from Luke about requesting a family dinner from Pia), we are given a tease of the very poorly kept secret that is Australian Survivor: All Stars. The season is currently filming in Fiji (hence no live reunion) and should be ready for us in early 2020.
It's hard to sum up a season so soon after it finishes. On the one hand, I really wanted a Contender to take the win after a Champion was victorious last year. On the other, I'm thrilled that Pia played such a social and determined game and was awarded the victory. The season delivered insane challenges and some fantastic characters. More importantly, perhaps, it achieved high ratings, which gives us a good chance that we'll get another civilian season later in 2020. No matter how much I watch and rewatch Survivor, there's always something new to see or something insane happening. While I don't agree that this is the "best season ever" (a Luke win may have changed that), I think it's been a bloody good effort, and I can't wait to see what JLP will be bringing us in the upcoming All Stars season.
Until next time. Thanks for reading!
---
Written by